Domestic Relations/Vignette 9: The Quest for Holy Capri,1982
Oil and gold leaf on canvas,
1' x 4'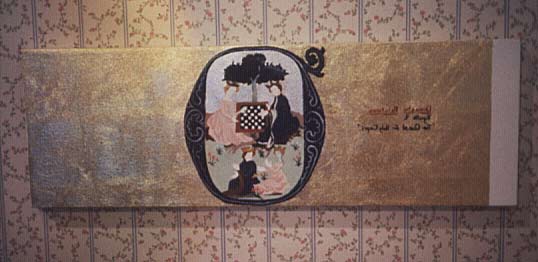 Remarks: This is the first of a series of nine paintings exhibited in an environmental installation (wallpaper, hand painted moldings, etc.) in a group show at Newspace Gallery titled, "Domestic Relations." In this exhibition, my installation of artworks were exhibited with the artworks of Milton Avery, Richard Diebenkorn, David Hockney, Patricia Patterson, Robert Kushner, et. al. At the same time, one of my paintings/drawings from "Light in August" was included in an exhibition at the Long Beach Museum called "Drawings by Painters" that included fifty-two painters including Joan Brown, Vija Clemins, Sam Francis, Wayne Teibaud, Nathan Olivera, Ed Moses, et. al. I mention these two exhibitions in order to say that the inclusion of my artwork in the company of such renowned artists and the considerable critical and financial success in my early career as an artist were very difficult for me to manage on all levels. This coupled with a very large public art commission (a 12' x 110' mural in 1982), a full time job moving furniture as the decorator of the "home floor" of the Broadway Department Store in SD and a twenty-four hour a day commitment to my spiritual development living in a spiritual school caused me to stop painting all together (from exhaustion and fear of success) for several years. It was the loss of the entire body of my art in 1987 which drove me to work in earnest to recapture my gifts and dreams as an artist.