Light in August,1980
Exhibited in New Narrative
Installation Shot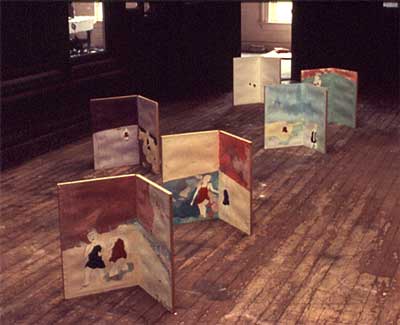 Installation shot of the six central diptych of the series, "Light in August," Oil and graphite on paper mounted on wood frame. Each painting is 22" x 30"

Remarks: Exhibited in a three person show, "New Narrative Painting," at Newspace in Los Angeles, this slide is an installation shot of six of the central diptychs of a series of twenty three paintings titled, "Light in August." The titles, sentences from William Faulkner's Light in August, were written in graphite in each artwork. The exhibition was favorably reviewed by Suzanne Muchnic in July 1980 in the LA Times. Twenty of the 23 paintings sold in this exhibition.