MFA EXHIBITION: Oklahoma is OK/Seasonal Rituals, 1959,1979
Spring Triptych
Oil on Metal Leaf on Feather Panel
Center panel: 54" x 90"
Side panels: 30" x 75"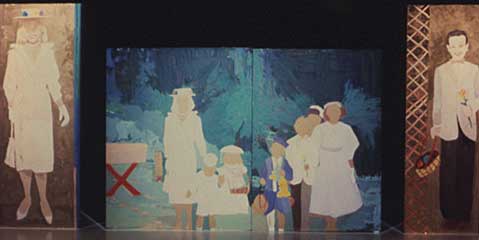 This triptych is one of four triptychs for my MFA exhibition, Oklahoma is OK/Seasonal Rituals 1959—an environmental installation with lighting, soundtrack and live performances of twin twelve year old girls on twin grand pianos. This exhibition, consisting of approximately fifty large scale paintings with text, was created in NY City during my internship at the Whitney Museum's Independent Study Program for Painters and Sculptors. The four central triptychs depicted my family at Easter time, summer vacation in Florida, in scouting uniforms for back-to-school time and Christmas. Behind the triptych seen in this slide is a 3' x 10' panel depicting a snowball fight in the backyard among several of my siblings with our pet Cocker Spaniel. The texts for the paintings displayed behind the central triptych for each season include quotations from Faulkner, Jack London, Steinbeck and James Joyce which serve as titles for these artworks. This exhibition became my second solo exhibition when it was displayed after my graduation at the SD Community Arts Gallery following my graduation. This second exhibit was reviewed in the SD Reader, a weekly free publication in the city. Many of these artworks were sold. The bulk of this body of artwork was destroyed in 1987.