You Have Me to Depend on Always,1991
Oil, wax and prismacolor on paper,
17"x 14"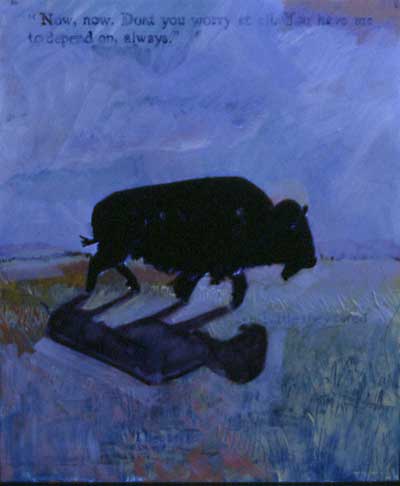 Remarks: Each year for Open Studios I created a series of paintings. My statement for the Open Studio '91 Catalog reads: "Derived from landscape and narrative painting, my art juxtaposes Old West icons and images of ballet with text by Faulkner to evoke ambiguity in myths of Manifest Destiny, fairy tales and legends." The full series of thirteen paintings of "The Sound and the Fury," contains images numerous great European ballerinas, American wildlife and a Native American Indian chief derived from photographs taken early in this century. The ballerinas represent an expression of the ultimate in Western cultural achievement and all the self-abuses concomitant in the effort of the dancer to reach personal zeniths. Together, the animals and dancers, represent sacrifice and survival of the fittest, two notions driving the development of America which the artist's believes are destructive of the spirit of humanity and nature.